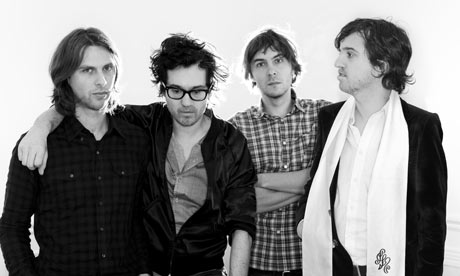 Phoenix is a French alternative rock band formed by childhood friends in the suburbs of Versailles in the late-'90's. Started during the same period as bands like Air and Daft Punk - other friends - their music shares very similar qualities. They've had both critical and international acclaim for their five album ventures over the last decade and are currently touring the US in support of their latest album,
Wolfgang Amadeus Phoenix
, released in May of this year.
This is a band that has never stuck to a genre. Listening to their current album almost sounds like a mash up between European electro pop and The Strokes style of retro rock. It's hard to put a finger on exactly what makes these songs so catchy but without a doubt they are some of the best songs to test out the bass in your car speakers. Songs like "1901" and "Lisztomania", written about the hysteria over 19th century composer Franz Liszt, are as addicting as Wawa's Peruvian coffee blend and sound better than anything on the radio today.
Unlike so many other bands, Phoenix has also managed to make one excellent record after the next. "Everything is Everything" and "Run Run Run" off 2004's
Alphabetical
and "If I Ever Feel Better" off their debut disc
United
still sound as fresh as when they first came out. These are timeless, fun, good old pop songs that never seem to tire.
I have to say, I sometimes don't understand how certain bands think they're making good music when in reality it's clearly garbage. Phoenix is the polar opposite. They have created some of the best beats and strangest lyrics I've ever heard. They're amazing.
I suggest buying the entire
Wolfgang Amadeus Phoenix
album immediately. You won't regret it.