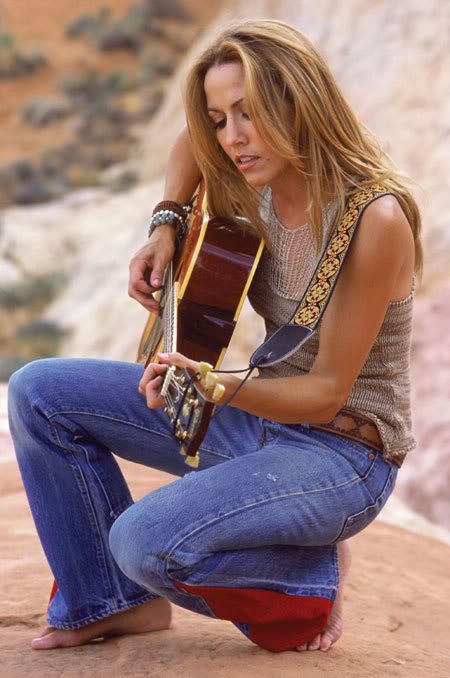 I was just on my new favorite site,
http://8tracks.com/
, and randomly decided to create a mix entitled "Women Rock". Yes, not that creative but it is full of songs that do not die: "I Love Rock 'n Roll" - Joan Jett, "Something to Talk About" - Bonnie Raitt, "I'm the Only One" - Melissa Etheridge, and the INCREDIBLE "My Favorite Mistake" by Sheryl Crow.
Actually, I'm not a big fan of female singers. That sounds bad but it is certainly not a conscious choice. It just so happens that my absolute favorite musicians always seem to be male. There is not a single female that makes it to my top 10 (well, Fleetwood Mac..).
Yet when I was going through a serious break up way back when, I immediately turned to Melissa Etheridge and Sheryl Crow religiously. Once again this was not a conscious choice but for some reason I gravitated towards their powerful voices and strong lyrics. This was about the time (early 2007) that I really started to learn about their music inside and out. I would go on a stationary bike and scream the words to "I'm the Only One" like the person I was directing it towards was right in front of me. It helped me blow off a lot of steam and I'm eternally grateful for this amazing music.
It wasn't until recently (as documented in another post) that I re-discovered Bonnie Raitt, another incredible female voice, and fell in love with women rockers all over again. Tonight I found myself listening to Heart, Stevie Nicks, and Patti Smith all in a row and enjoying it more than I could've imagined. These are voices I've heard all my life - with mixed feelings - and they've become part of my personal landscape. They're probably some of the only strong female influences I've ever known.
My cousin, who is an intense music lover in her own right, is a huge fan of female vocalists (although she'll deny that she has a particular preference) but they usually fall more on the pop side of the spectrum. If you're in her car for longer than ten minutes you're sure to hear Natasha Bedingfield, Katy Perry, or Shakira. She seems to rarely buy full albums these days but these are three of the most recent purchases.
Although this strays very far from my taste, I don't think there's anything wrong with this of course. I just find it interesting that if you compare our personalities, she is actually very into having female friends. She is always telling me about a debacle with one of the women she works with or a friend that broke plans, etc. She is very into being around females. I am not. I have some of the most beautiful, intelligent, special girl friends - but very few. I can't stress how unconscious this is (I would love to have more female friends) but nevertheless I have never been a girl's girl. I'm very feminine and fashion obsessed but I'm usually not compatible with many females. They confuse me. Is that wrong to say? Probably but I don't mean it like that. I'm equally confusing and so is every guy out there. My female cat is a much less complicated person than anybody I've ever met. She also has great taste in music.
Point being, I wonder if there's a correlation between my cousin loving to be around girl friends and also loving female voices and me having few female friends and not particularly listening to female artists. I'm probably looking way too much into it but I find it an intriguing coincidence (and the fact that I usually like deeper, raspy voiced female singers).
Maybe I'm just high.
So, in celebration of you reading this post, here's a great list of some of my favorite songs by some incredibly inspiring and immensely talented females of all sounds and styles.
Stevie Nicks
- Stand Back
Melissa Etheridge
- I'm the Only One
Bonnie Raitt
- Not the Only One
Sheryl Crow
- My Favorite Mistake
Cher
- Gypsies, Tramps, and Thieves
Heart
- Alone
Mary J. Blige
- No One Will Do
Adele
- Cold Shoulder
Etta James
- I'd Rather Go Blind
Audra McDonald
- Any Place I Hang My Hat is Home
Jewel
- You Were Meant For Me
Mandy Moore
- I Could Break Your Heart Any Day of the Week
Amy Winehouse
- Valarie
Beyonce
- Me, Myself, and I
Billie Holiday
- Speak Low
Sharon Jones
- Got a Thing on My Mind
Queen Latifah
- Hello Stranger
Regina Spektor
- Eet
Nina Gordon
- Horses in the City
Rihanna
- Rude Boy
Mary Wells
- You Beat Me to the Punch
Alice Russell
- Hurry on Now
Carrie Underwood
- Last Name
Chrisette Michele
- Best of Me
Corinne Bailey Rae
- I'd Like To
Check out my playlists at
http://8tracks.com/angelicadiamond